Erin Sharkey will speak about her incredible book A Darker Wilderness at 6:00 PM on Tuesday May 23, 2023 in 403 Hayes Hall, UB South Campus.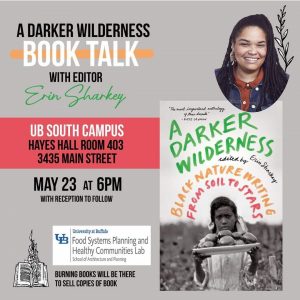 "What are the politics of nature? Who owns it, where is it, what role does it play in our lives? Does it need to be tamed? Are we ourselves natural? In A Darker Wilderness, a constellation of luminary writers reflect on the significance of nature in their lived experience and on the role of nature in the lives of Black folks in the United States. Each of [the] essays [in the book] engages with a single archival object, whether directly or obliquely, exploring stories spanning hundreds of years and thousands of miles, traveling from roots to space and finding rich Blackness everywhere."
About Erin Sharkey
Erin Sharkey is a writer, arts and abolition organizer, cultural worker, and film producer based in Minneapolis. She is the cofounder, with Junauda Petrus, of an experimental arts collective called Free Black Dirt and is the producer of film projects including Sweetness of Wild, an episodic web film project, and Small Business Revolution, which explored challenges and opportunities for Black-owned businesses in the Twin Cities in the summer of 2021. Sharkey has received fellowships and residencies from the Loft Mentor Series, VONA/Voices, the Givens Foundation, Coffee House Press, the Bell Museum of Natural History, and the Jerome Foundation. Sharkey was recently awarded the Black Seed Fellowship from Black Visions and the Headwaters Foundation. Erin is a cofounding coop member and steward of Rootsprings, a rest and respite retreat center in central MN. She has an MFA in creative writing from Hamline University and teaches with the Minnesota Prison Writing Workshop.
Join UB Food Lab in welcoming Erin Sharkey to Buffalo to read and reflect on this remarkable project.