Andrew Galarneau: Grassroots efforts help water seeds of food security on East Side
Samina Raja, an internationally known University at Buffalo expert on building sustainable food systems and healthy communities, has spent more than 20 years studying how to help feed people living in neighborhoods without groceries, concentrating on Buffalo's East Side.
The solution, in her estimation, is a classic case of something being simple, but not easy.
"The city's Black neighborhoods need sustained structural investments, not fly-in, fly-out charity," she and other UB Food Lab researchers said in an op-ed published at CivilEats.com.
"We are unlikely to remedy food inequities" without a greater understanding of what causes poor food environments, says Samina Raja, associate dean for research and inclusive excellence, and principal investigator of the Food Systems Planning and Healthy Communities Lab at the University at Buffalo.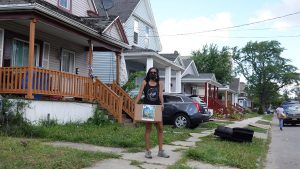 Allison DeHonney is shown making a food delivery in August 2020, the first year of the pandemic. Buffalo News file photo