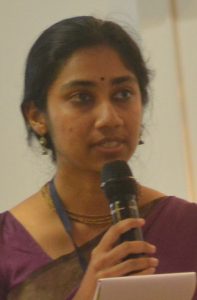 Radhika P Kumar is a full-time faculty member at the College of Architecture Trivandrum (C.A.T). She holds a Bachelor's degree in architecture from Bangalore University, and a Master's degree in Planning (Housing) from the University of Kerala (College of Engineering, Trivandrum).
Her research interests include the role of planning in building 'Healthy' cities, social rental housing as a means to achieve "Housing for All", and urban microclimate studies as a guide to urban form development. Her present academic position also allows her to indulge her other interests like instructional design for active learning, as well as architecture and planning pedagogy.
While pursuing her master's program, she had the opportunity to participate in a multidisciplinary, international-collaboration studio project headed by Dr. Samina Raja, in Maradu, Kerala; and is now associated with the Food Lab as a Remote Research Affiliate for its activities in Kerala. In this capacity, she has recently participated in the Food Lab's Plan-REFUGE program, seeking to understand the issues faced by smallholder farmers in predominantly agrarian countries like India.
Apart from her academic contribution to the sustainability cause, Radhika also actively volunteers in programs that impart ethical and spiritual values, especially among children and youth, since she strongly believes that inner transformation and understanding individual social responsibility, can go a long way in achieving a truly sustainable future.