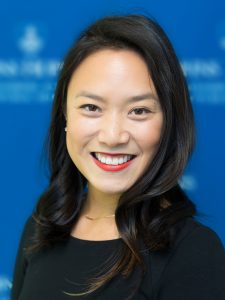 Yeeli Mui is a scholar of public health and urban planning. Dr. Mui's research, teaching, and practice are driven by a focus to advance health equity through the lens of planning for food systems and community development. Using mixed-methods, she has examined inequities in urban food systems, policies and programs to mitigate obesity risk, and the impact of housing restoration on social capital and mental health outcomes.
As part of a multi-country project in the Global South, Dr. Mui leads an interdisciplinary research team to examine how smallholder farmers' adaptations – in the face of urbanization, globalization of food, and climate change – impact farmer food security and health in Kerala, India. In the US context, Dr. Mui directs a study that aims to strengthen linkages between neighborhood revitalization efforts and community health through more place- and health-conscious strategies in Baltimore, MD.
Email: yeelimui@buffalo.edu
Affiliations: Community of Excellence in Global Health Equity
Education
PhD, Johns Hopkins Bloomberg School of Public Health
MPH, Yale School of Public Health
BS, University of California, Irvine
Select Publications
Mui Y, Ballard E, Lopatin E, Thornton RLJ, Pollack Porter K, Gittelsohn J. A community-based system dynamics approach suggests solutions for improving healthy food access in a low-income urban environment. PLoS ONE. 2019;14(5).  
Mui Y, Hodgson K, Khojasteh M, Raja S. Rejoining the planning and public health fields: Leveraging comprehensive plans to strengthen food systems in an urban versus rural jurisdiction. Journal of Agriculture, Food Systems, and Community Development. 2018; 8(B):73-93.
Mui Y, Sirwatka A, Kumar R, Resor J, Goldberg D, Shulpani U, Radhakrishnan S, Raja S. Growing our food but nutrition insecure: Adaptations in the daily living practices of smallholder farmers in Kerala, India (under review).
See all publications by Yeeli Mui
Select Honors and Awards
Sylvia and Eddie C. Brown Community Health Scholarship, Johns Hopkins Bloomberg School of Public Health, 2012-17
11th Annual Postdoctoral Research Symposium (1st Place), 2019