Dealing with Disparities in Food Acquisition Among Refugees (DDFAR)

Dealing with Disparities in Food Acquisition Among Refugees (DDFAR) is a two-year pilot research project (2016-2018) that explores the influence of social, environmental, cultural and personal determinants on food acquisition practices among Americans from Burma living in Buffalo, New York. Working in partnership with a community advisory group (CAG), the research team is documenting the ways in which Americans from Burma access culturally acceptable foods, their perception of health risks, and how they are changing the food environment in the city of Buffalo. Funded in part by the University at Buffalo's Community of Excellence in Global Health Equity (CGHE), DDFAR utilizes a transdisciplinary approach, engaging team members from diverse disciplines including urban and regional planning (Dr. Samina Raja and Alex Judelsohn), public health (Dr. Heather Orom), social work (Dr. Isok Kim), and medicine (Dr. Roberto Diaz del Carpio). CAG members include representatives of the Burmese and Karen communities as well as organizations that serve refugee communities.
Members of the Community Advisory Group:
Melissa Fratello (Grassroots Gardens of Western New York)
Daniel Lawd (Karen Society of Buffalo)
Chan Myae Thu (community health worker)
Jeff Oglieve (Journey's End Refugee Services)
Steven Sanyu (Burmese Community Services, Inc.)
Win Min Thant (Buffalo State Community Academic Center)
Zaw Win (WASH Project)
Ongoing contributor and volunteer, Rosie DeVito, MPH graduate.
Immigrants And Food: Role Of Ethnic Markets In Transforming And Leveraging Food Systems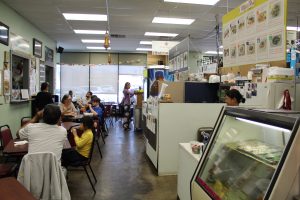 The Westminster Economic Development Initiative (WEDI) is a non-profit organization working to create opportunities and success through community building, economic development, and education. Since its creation in 2011, WEDI's West Side Bazaar has provided a hands-on food entrepreneurship program empowering low-income residents, particularly from Buffalo's culturally rich yet economically distressed West Side community, to start and expand businesses serving inexpensive, culturally relevant cuisines. Along with a small business incubator, the West Side Bazaar is also a startup accelerator, a community meeting space, and a public market. With a grant from the United States Department of Agriculture, WEDI is in the process of expanding this operation into a 10,000-square-foot space, featuring a larger shared commercial kitchen kitchen, increased storage, and retail spaces for both service-oriented, product, and apparel companies. This project will empower WEDI's clients to self-sustainability in business and food. The Food Lab is evaluating the West Side Bazaar's expansion to help understand the role immigrant food vendors play in Buffalo's food supply chain, with particular regard to procurement from the city-regional supply chain. Data is collected through semi-structured interviews with vendors in the West Side Bazaar, and results will be shared back with WEDI annually over the course of the project.