Community Action Research Partnership with Massachusetts Avenue Project Youth Evaluation

The UB Food Lab team has a long-standing award winning community action research partnership with the Massachusetts Avenue Project (MAP), a local not-for-profit group that aims to build capacity of youth by engaging them in food systems transformation. The partnership, which began in 2002 with a graduate planning practicum taught by Dr. Raja on behalf of MAP, includes multiple research, education, advocacy, and policy activities. The UB Food Lab has documented the impact of MAP's on the food policy landscape in the city, and worked with MAP to strengthen the food system. Read about the expansive work of this partnership here: https://journals.iupui.edu/index.php/muj/article/view/21471/20710
Evaluation of the Buffalo Neighborhood Food Project (with GGWNY and MAP) 2013-2016

The goal of this action research project was to evaluate the progress of the Buffalo Neighborhood Food Project, led by GGWNY and MAP, in improving access to food in the city of Buffalo. The BNFP project aimed to improve access to food by increasing the  number of community and school-based gardens in the city, building capacity of residents to engage in urban agriculture, and implementing a fresh food mobile market. The UB Food Lab team conducted a survey of community gardeners as well as open-ended interviews with mobile market users to understand the ways in which BNFP efforts increased opportunities for growing, purchasing, and consuming good foods in underserved neighborhoods.
Growing Food Policy From the Ground Up (GFPGU)
Why this project?
Urban food systems have the potential to provide locally produced, affordable and healthy foods to low-income communities of color. Urban agriculture reduces transportation emissions and sewer outflows, mitigates urban heat island effect, creates jobs, greens and beautifies urban spaces, reintroduces farming to youth and adults of color, generates amenity and property values, and promotes social cohesion. Local governments can help urban food systems reach this potential through a variety of mechanisms including zoning land for farming, tax credits, and grants for urban growers. Yet, policymakers rarely enact these policies, and when they do it is often without input from growers of color. 
Urban food systems and urban growers face unique challenges. Urban farmers must compete with housing and retail developers for expensive land. Urban lots often have limited access to energy and water, and are covered by restrictive zoning ordinances. Local governments often incentivize land development that, on the surface, generate property taxes at the expense of other benefits. Additionally, municipal policies give little consideration to the long term balance of fiscal impacts — the net of revenues and expenditures incurring from land development. The constraints are amplified for growers of color who are excluded from accessing land, capital, information and other resources.
Experiences with the COVID-19 pandemic have illustrated the need for well-functioning urban food systems. Design of such systems ought to be informed by experiences of community networks, especially communities of color who are impacted by malfunctioning food systems. 
The Growing Food Policy from the Ground Up (GFPGU) Project is a collaborative effort to support urban growers of color in Buffalo, NY and Minneapolis, MN. Improved policy awareness helps urban growers better access land, water and resources. Ultimately, urban food systems and grower-policymaker networks lead to healthier, vibrant urban communities.
What communities is the project focused on?
The project is focused on neighborhoods of color in the cities of Buffalo, NY and Minneapolis, MN.
What is the project doing?
The GFPGU team is executing a multi-year action-research project that combines action on the ground with research. The project will support growers of color in Buffalo and Minneapolis through capacity building efforts and mini-grants. The initiative will also amplify the power of social networks in transforming urban food systems and urban food policy. The project has three key aims to:
Conduct a retrospective examination that documents the nature, extent, and intensity of social networks in UFS, and their role in facilitating food systems level change
Examine the disconnects between local government policy networks and food system networks, especially those affecting urban growers of color; and
Develop and test the role of historically-informed, community-led, and technologically savvy methods in engaging urban growers to emerge as leaders in local policy networks.
Using a variety of qualitative and quantitative methods, the research team is studying the role of social networks and social capital in urban food systems. Working with community partners in Buffalo and Minneapolis — cities with strong community-led urban agriculture organizations — the researchers are studying current urban food systems policy networks for their organizing capabilities. The research, which is being co-produced by university and community partners, is taking place mainly in areas that are historically communities of color. The team is also examining the divides between local government networks and urban food systems networks that limit urban agriculture.
Using this information, the community partners and researchers will work with urban growers, particularly growers of color, to develop cooperative strategies to engage with local governments. These efforts include peer trainers with experience in engaging local governments, microgrants and developing urban farming tools that extend the growing season.
After putting the strategies into action, researchers will evaluate their effectiveness in empowering growers' engagement in building new social networks between growers and policymakers. Researchers will also determine whether these networks have resulted in projects and policies favorable to urban farming and growers' capabilities.
Who drives this project?
The project is co-produced by a team of community and university researchers and partners. The team of university researchers includes Martha Bohm (UB), Emmanuel Frimpong Boamah (UB), Fernando Burga (UMN),  Yeeli Mui (Johns Hopkins), and Samina Raja (UB). Community-focused work is led by Allison DeHonney (UFV), Michelle Horowitz (AFC),  Darryl Lindsey (AFC), Queen Frye, Diane Picard (MAP), and Rebekah Williams (FFS).
Who supports this project?
The project is supported by a $999,680 award through FFAR's Seeding Solutions program. Funding from FFAR is being matched by the University at Buffalo, Johns Hopkins University (with support from the Bloomberg American Health Initiative), the University of Minnesota, Appetite For Change, Massachusetts Avenue Project and Urban Fruits & Veggies.
Contact.  Reach out to the project coordinator Carol Ramos at foodsystems@ap.buffalo.edu for more information.  
Resources for residents in neighborhoods east of Main Street in Buffalo
In Buffalo, this project focuses on the following neighborhoods East of Main Street: Delavan Grider, Kensington-Bailey, Masten Park, Pratt-Willert, Broadway Filmore, Fruit Belt, and MLK Park. We recognize that residents in the neighborhoods have a number of food-related and ancillary needs. Linked here is a document with supportive services for people who are participating in the GFPGU project.
Growing Together (One Region Forward)

Commissioned as a technical report for a regional sustainability planning process known locally as One Region Forward, Growing Together is a sustainable food access and food justice report for the Buffalo-Erie metropolitan area of Western New York State. One Region Forward planning process was led by the University at Buffalo Regional Institute (UBRI) and funded by a grant from the United States Department of Housing and Urban Development's (HUD) Partnership for Sustainable Communities Initiative.
Through multi-year stakeholder engagement and research (2013-2014), the Food Lab and UBRI teams identified assets and opportunities within the region's food system. Growing Together includes "Ideas for the future" that can be used to enhance viability of food production; improve access to nutritious, culturally acceptable, and affordable food; and create stronger linkages between food producers and eaters in the region. Research and ideas proposed in Growing Together are being implemented by public and civic actors in the region.
Participatory Action Policy Research Healthy Kids, Healthy Communities-Buffalo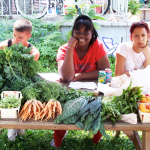 The UB Food Lab team conducts research that informs policy actions for creating healthier communities. The team views policy structures have a key role in enabling (or, limiting) healthy lifestyles and health equity. To that end, the lab team partnered with the Healthy Kids, Healthy Communities-Buffalo coalition, a group of public, civic, and private organizations, to conduct research on structural opportunities and barriers for healthy eating and active living in the city of Buffalo. Funded by a grant from the Robert Wood Johnson Foundation, the lab team produced a series of policy briefs to inform the work of the coalition. See policy briefs below:
Do Kids Want to Play in the Queen City?
Transforming Active Living Policy into Practice
Children's Health: A Growing Need to Incorporate Physical Activity into the Daily Lives of Youth
Healthy Eating and Active Living for Children in the City of Buffalo
Strengthening Buffalo's Food System to Promote Healthy Eating Among Children
Buffalo's Food System: An assessment of current municipal, county, and state policies that regulate Buffalo's food system
Planning to Eat? Innovative Local Government Plans and Policies to Build Healthy Food Systems in the United States
Indicators for a Healthy Food and Built Environment in the City of Buffalo
Planning, Implementation, and Evaluation for Equitable Community Food Systems
In recognition of food-related inequities facing minority communities, United Way of Buffalo & Erie County developed the Community Food Systems Grant (CFSG) program in 2017 to implement strategies that promote food equity and food sovereignty in the city of Buffalo and the greater Buffalo area. The CFSG program goes beyond increasing people's physical access to good food to advancing equity and sovereignty in the food system, amplifying marginalized people's agency, resources, and capabilities to use the food system for their own health and wellbeing. The CFSG program aims to foster ongoing collaboration within the food security network in the community, improve access to healthy foods, create food-related job opportunities, promote food entrepreneurship, strengthen food skills, and establish food policy that supports the above initiatives. With funding support from the General Mills Foundation, United Way selected 13 community organizations – those of which are uniquely positioned to promote systems change in the region – to receive CFSG funding to strengthen the city's food system. The Food Lab is working closely with the United Way of Buffalo & Erie County to document the impact of the CFSG program on the city of Buffalo. Results from this evaluation will inform local stakeholders as well as broader food systems work nationally.