Community Action Research Partnership with Massachusetts Avenue Project Youth Evaluation

The UB Food Lab team has a long-standing award winning community action research partnership with the Massachusetts Avenue Project (MAP), a local not-for-profit group that aims to build capacity of youth by engaging them in food systems transformation. The partnership, which began in 2002 with a graduate planning practicum taught by Dr. Raja on behalf of MAP, includes multiple research, education, advocacy, and policy activities. The UB Food Lab has documented the impact of MAP's on the food policy landscape in the city, and worked with MAP to strengthen the food system. Read about the expansive work of this partnership here: https://journals.iupui.edu/index.php/muj/article/view/21471/20710
Evaluation of the Buffalo Neighborhood Food Project (with GGWNY and MAP) 2013-2016

The goal of this action research project was to evaluate the progress of the Buffalo Neighborhood Food Project, led by GGWNY and MAP, in improving access to food in the city of Buffalo. The BNFP project aimed to improve access to food by increasing the  number of community and school-based gardens in the city, building capacity of residents to engage in urban agriculture, and implementing a fresh food mobile market. The UB Food Lab team conducted a survey of community gardeners as well as open-ended interviews with mobile market users to understand the ways in which BNFP efforts increased opportunities for growing, purchasing, and consuming good foods in underserved neighborhoods.
Growing Policy from the Ground Up: Building, Deploying, and Testing Networks to Strengthen Urban Food Systems
Community networks are rebuilding urban food systems (UFS), particularly after the COVID-19 pandemia, but experience various constraints exacerbated by 'food blind' local governments. By harnessing the power of social networks and collective efficacy in transforming local food policy, and thus local food systems, and linking local governments and community-driven innovation in urban food systems, the "Growing Policy from the Ground Up: Building, Deploying, and Testing Networks to Strengthen Urban Food Systems" project aims to generate capacity-building lessons for local governments throughout the United States. Using lessons drawn from Buffalo, NY and Minneapolis, MN, the UB Food Lab, John Hopkins University, and the University of Minnesota is working in partnership with the Massachusetts Avenue Project, Urban Fruit and Veggies, Buffalo Food Equity Network, and Appetite for Change to conduct a retrospective examination of nature, extent, and intensity of social networks in the UFS and their role in facilitating (or, dampening) food system level change towards healthier communities. Additionally, the project examines the limitations between local government policy networks and food system networks, especially those impacting urban growers of color, and develops and tests the role of historically-informed, community-led and technologically appropriate methods in engaging urban growers (of color) to emerge as leaders in local policy networks. By illustrating how local government policy and UFS networks intersect, this project lays the groundwork for a more inclusive, shared, and equitable governance of UFS.
Growing Together (One Region Forward)

Commissioned as a technical report for a regional sustainability planning process known locally as One Region Forward, Growing Together is a sustainable food access and food justice report for the Buffalo-Erie metropolitan area of Western New York State. One Region Forward planning process was led by the University at Buffalo Regional Institute (UBRI) and funded by a grant from the United States Department of Housing and Urban Development's (HUD) Partnership for Sustainable Communities Initiative.
Through multi-year stakeholder engagement and research (2013-2014), the Food Lab and UBRI teams identified assets and opportunities within the region's food system. Growing Together includes "Ideas for the future" that can be used to enhance viability of food production; improve access to nutritious, culturally acceptable, and affordable food; and create stronger linkages between food producers and eaters in the region. Research and ideas proposed in Growing Together are being implemented by public and civic actors in the region.
Participatory Action Policy Research Healthy Kids, Healthy Communities-Buffalo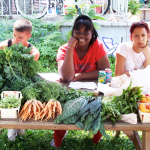 The UB Food Lab team conducts research that informs policy actions for creating healthier communities. The team views policy structures have a key role in enabling (or, limiting) healthy lifestyles and health equity. To that end, the lab team partnered with the Healthy Kids, Healthy Communities-Buffalo coalition, a group of public, civic, and private organizations, to conduct research on structural opportunities and barriers for healthy eating and active living in the city of Buffalo. Funded by a grant from the Robert Wood Johnson Foundation, the lab team produced a series of policy briefs to inform the work of the coalition. See policy briefs below:
Do Kids Want to Play in the Queen City?
Transforming Active Living Policy into Practice
Children's Health: A Growing Need to Incorporate Physical Activity into the Daily Lives of Youth
Healthy Eating and Active Living for Children in the City of Buffalo
Strengthening Buffalo's Food System to Promote Healthy Eating Among Children
Buffalo's Food System: An assessment of current municipal, county, and state policies that regulate Buffalo's food system
Planning to Eat? Innovative Local Government Plans and Policies to Build Healthy Food Systems in the United States
Indicators for a Healthy Food and Built Environment in the City of Buffalo
Planning, Implementation, and Evaluation for Equitable Community Food Systems
In recognition of food-related inequities facing minority communities, United Way of Buffalo & Erie County developed the Community Food Systems Grant (CFSG) program in 2017 to implement strategies that promote food equity and food sovereignty in the city of Buffalo and the greater Buffalo area. The CFSG program goes beyond increasing people's physical access to good food to advancing equity and sovereignty in the food system, amplifying marginalized people's agency, resources, and capabilities to use the food system for their own health and wellbeing. The CFSG program aims to foster ongoing collaboration within the food security network in the community, improve access to healthy foods, create food-related job opportunities, promote food entrepreneurship, strengthen food skills, and establish food policy that supports the above initiatives. With funding support from the General Mills Foundation, United Way selected 13 community organizations – those of which are uniquely positioned to promote systems change in the region – to receive CFSG funding to strengthen the city's food system. The Food Lab is working closely with the United Way of Buffalo & Erie County to document the impact of the CFSG program on the city of Buffalo. Results from this evaluation will inform local stakeholders as well as broader food systems work nationally.