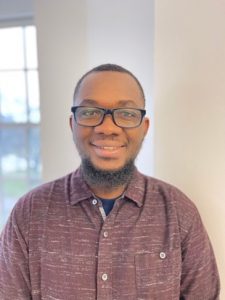 A doctoral student in urban and regional planning, Kahad Adamu is interested in the political ecology of gold mining in Sub-Saharan Africa and managing natural resources (land and water), land management and administration, and affordable housing. 
At the Food Lab, Kahad works on a variety of analytical projects. He is currently investigating the racial disparities in the spatial distribution of retail food destinations in Erie County. He is also involved in the Healthy Corner Store Initiative (HCSI) project.  
Before joining UB, Kahad earned an MSc in Urban Development Planning from University College London (UCL) and a BSc (Hons) in Land Economy from KNUST in Ghana. Kahad previously worked as an adjunct lecturer at Kumasi Technical University in Kumasi, Ghana, where he taught courses such as Land Use Planning and Administration and Property Rating and Taxation. He also worked with the Land Resources and Management Center (LRMC) on projects that examined urban governance and informal settlement in Ghana's capital city.