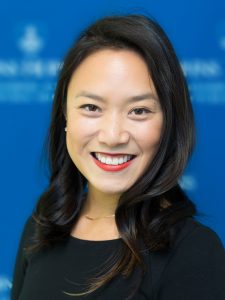 Yeeli is a Postdoctoral Associate in the Community for Global Health Equity and the UB Food Systems Planning and Healthy Communities Lab. Her research interests encompass community planning and design to promote healthy living and reduce health inequities. Yeeli holds a PhD in Nutrition from the Johns Hopkins Bloomberg School of Public Health, where she completed her dissertation focusing on the role of crime and abandoned homes in an urban food system.
Currently, Yeeli works with an interdisciplinary team seeking to advance equitable food systems through the lens of planning and policy in the Global South. In the US context, Yeeli is exploring the public health implications of targeted neighborhood revitalization in Baltimore, MD, by developing case studies of the Vacants to Value Program.
Yeeli also holds a MPH in Health Policy and Administration from the Yale School of Public Health. Prior to her graduate studies, she worked at FHI 360 in Washington, DC as a Marketing and Communications Officer for the National Collaborative on Childhood Obesity Research.
Publications
Nau, Claudia, Shiriki Kumanyika, Joel Gittelsohn, Atif Adam, Michelle Wong, Yeeli Mui, and Bruce Y. Lee. "Identifying financially sustainable pricing interventions to promote healthier beverage purchases in small neighborhood stores," Preventing Chronic Disease. In press.
Mui, Yeeli, Joel Gittelsohn, and Jessica C. Jones-Smith. 2017. "Longitudinal Associations between Change in Neighborhood Social Disorder and Change in Food Swamps in an Urban Setting." Journal of Urban Health. 94(1): 75-86.
Lee, Bruce Y., Sarah M. Bartsch, Yeeli Mui, Leila A. Haidari, Marie L. Spiker, and Joel Gittelsohn. 2017. "A systems approach to obesity." Nutrition Reviews. 75(s1): 94-106.
Trude, Angela, Gabriela Vedovato, Yeeli Mui, Maria Oliveira, and Paula Martins. 2016. "Factors associated with physical inactivity and sedentary behavior among women living in the urban area of Santos City, Brazil." Revista Brasileira de Atividade Física & Saúde. 21(2): 162-171.
Mui, Yeeli, Bruce Y. Lee, Atif Adam, Anna Y. Kharmats, Nadine Budd, Claudia Nau, and Joel Gittelsohn. 2015. "Healthy versus unhealthy suppliers in food desert neighborhoods: A network analysis of corner stores' food supplier networks." International Journal of Environmental Research and Public Health. 12(12): 15058-15074.
Gittelsohn, Joel, Yeeli Mui, Atif Adam, Sen Lin, Anna Kharmats, Takeru Igusa, and Bruce Y. Lee. 2015. "Incorporating systems science principles into the development of obesity prevention interventions: Principles, benefits, and challenges." Current Obesity Reports 4(2): 174-181.
Gittelsohn, Joel, Elizabeth Anderson Steeves, Yeeli Mui, Anna Y. Kharmats, Laura C. Hopkins, and Donna Dennis. 2014. "B'More healthy communities for kids: design of a multi-level intervention for obesity prevention for low-income African American children." BMC Public Health. 14(1): 942.
Kharmats, Anna Y., Jessica C. Jones-Smith, Yun Sang Cheah, Nadine Budd, Laura Flamm, Alison Cuccia, Yeeli Mui, Angela Trude, and Joel Gittelsohn. 2014. "Relation between the Supplemental Nutritional Assistance Program cycle and dietary quality in low-income African Americans in Baltimore, Maryland." The American Journal of Clinical Nutrition. 99(5): 1006-1014.
Coakley, Hannah L., Elizabeth Anderson Steeves, Jessica C. Jones-Smith, Laura Hopkins, Nadine Braunstein, Yeeli Mui, and Joel Gittelsohn. 2014. "Where Do Low-Income Children Get Food? Combining Ground-Truthing and Technology to Improve Accuracy in Establishing Children's Food Purchasing Behaviors." Journal of Hunger & Environmental Nutrition. 9(3): 418-430.